How to find Canara bank Customer ID? [In just 1 minute]
Canara Bank provides online facilities to its customers for easy access to their bank account. You can manage your Canara bank account sitting at home and do almost every transaction from home. One such facility is the internet banking facility. To avail Internet banking facility, you will need to register online for it. But to register for internet banking, you will need a Customer ID of your bank account. For many other banking-related work, you will need a Canara Bank customer ID. In this post, we will see how to find Canara bank customer ID step-by-step.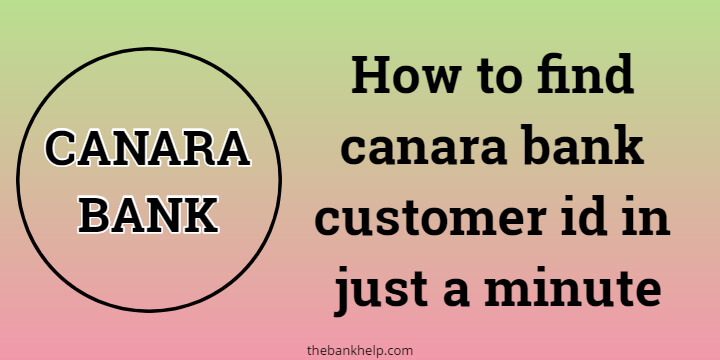 Things required to know Canara bank customer ID –
Passbook of your Canara bank account
Cheque book.
A welcome letter (which you have got during account opening)
Internet Banking Details – UserID and Password
How to find Canara bank customer ID?
You can get your Canara bank customer id by following methods –
Via Passbook
Via Wellcome Letter
Via Chequebook
Via Internet Banking
By calling Customer Care
A

. How to find Canara Bank customer ID by

Passbook
Get your Canara bank passbook and open the first page of it.
You can see various details of your account, including account number and customer ID.
Also Read – How to check Canara bank balance within 1 minute
B

. Know Canara bank customer ID using

Welcome letter
Get your welcome letter and open it.
You will get the Canara Bank customer ID printed on the first half of the page.
C

. Get Canara Bank customer ID using a

cheque book
Open the first page of your chequebook.
You can now see the customer id printed on the first page, along with the account holder's name, account number, etc.
D

. Know Canara Bank customer ID using

Internet Banking
Open the Canara bank internet banking login page on your computer/mobile – https://netbanking.canarabank.in/.
You can now open the Bank account statement from the menu.
On the first page of the statement, you can see your customer ID along with the account number.
Also Read – How to get Canara Bank Mini statement by SMS or missed call?
E

. How to get Canara bank customer ID by calling

customer Care
Dail a Canara Bank customer care toll-free number – 18004250018
Once the call gets connected, you can ask the executive for a Customer ID number.
The executive will verify your account number, date of birth, account holder name, registered mobile number, etc.
Once the details are verified, you can get your customer ID via SMS.
Summary –
This guide explains to you how to find Canara bank customer ID in various methods. If you have any doubts regarding this guide, you can write your queries/questions in the comment section below.