Since the Digital India Campaign, many banking services has come close to our fingertips. One of such services is checking bank account balance without internet. There are many methods to check account balance on your phone, but all these methods require an internet connection except one method. So this method is *99# service which is based on BHIM UPI. In this article, we have explained, How to check bank account balance without internet on mobile using *99# NUUP feature.
What is *99#? What is the full form of NUUP?
*99# is the service where you can dial *99# from any phone to access your bank account and avail many services. *99# is based on BHIM UPI and only works on the registered mobile number in the bank.
The full form of NUUP is National Unified USSD Platform. This means *99# is only based on USSD and works without an internet connection. This feature works the same as we use the specific numbers to check your SIM card balance and validity of the plan.
Requirements to use *99# Service
There are minimum requirements to use this service and works on any basic keypad phone.
The mobile number should be registered with the Bank to use this feature.
You can get account balance only when you use the registered mobile number to dial *99#.
This service has charges for every transaction. Make sure you have sufficient balance or Unlimited SMS pack ( which is common nowadays).
NUUP service won't work on Jio Network as of now. If you have a Jio SIM, then you can use other methods to check bank account balance from this guide.
A debit card is a must for one-time registration for *99# service.
How to register for *99# Service to check bank account balance without internet banking
For the first time, you have to register for the NUUP service to use it. After the registration, you can use the *99# to get account balance, transfer money etc.
Step1: First of all, dial *99# from the dial pad and wait for the replay.
Step2: The popup menu with the text "Welcome to NUUP, Please wait" will appear on the screen. Click OK to continue.
Step3: The popup with the Language selection appears on the screen. Select your preferred language to get started. I have chosen English for now. You can change the language later. Tap on Send to proceed.
Step4: Now, from the next screen, type your Bank account Short name, Like SBI, HDFC, BOI, ICICI, PNB, etc. After you type the bank name, tap on the Send button.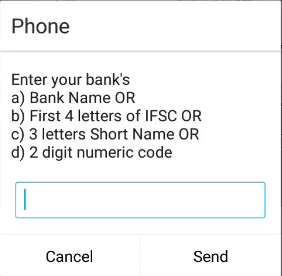 Step5: On the next popup, select your account and tap on Send.
Step6: Now, you have to enter the last six digits of your Debit Card and the Expiry date separated by space. for e.g – 012345 1033. Tap Send to proceed further.
Step7: Once the debit card details are verified, you can Set UPI PIN on the next popup screen. You can set any six digit pin of your set.
Step8: Re-enter the UPI PIN to verify and tap on Send to set it.
You have now successfully registered on NUUP *99# service and ready to use.
How to check bank account balance Without internet using *99# feature
Step1: Dial *99# on from the registered mobile number.
Step2: Now, from the main menu, select the option "Check balance" and tap on Send option.
Step3: Enter the Six digit UPI PIN to login to your NUUP account.
Step4: Next screen will show your account balance.
How to send Money using *99# service
You can also transfer money using this service like other UPI apps instantly,
Step1: From the main menu of NUUP service, select the "Send Money" option.
Step2: Now, enter the six-digit UPI PIN to log in.
Step3: Enter the Receiver's bank account number and IFSC code and tap on Send.
Step4: Enter the amount you want to send.
Step5: NExt screen will show you the account details and amount to send. Confirm all the details and then tap on the Send button.
Step6: Money will be transferred instantly, and you will get a reference number and money sent successfully message on the new popup screen.
How to change Bank account in *99#?
If you have more than one bank account with the same mobile number registered on all banks, then you can easily switch the banks.
Step1: Dial *99# and select "My profile" from the main menu.
Step2: On the next screen, select "Change Bank Account Option" and tap on Send.
Step2: Now, enter the bank name and follow the same process explained above on how to register for NUUP service.
Summary –
In this guide of "How to check bank account balance and transfer money without internet on mobile" we have explained how you can check your bank account balance from the phone with no internet connection. You can also transfer the money using the *99# service. If you have any doubt or any problem then feel free to comment in the Comment section below.