Forgot UPI PIN: How to reset UPI PIN? [In 2 minutes]
UPI is a newly launched payment system in India. Under the #DigitalIndia campaign, the UPI has emerged a lot and has become a more widely used payment method than other methods. With a variety of options, like paying using UPI ID, Account number/IFSC, using the mobile number, and even using an Aadhar number, UPI payments have become the favorite of Indian Youth. But for the UPI payments, the Six digit UPI PIN is mandatory. If you forgot the UPI PIN then it will be difficult to transact and use any UPI App. If you are using any UPI app and forgot the UPI PIN, then this post will be helpful for you. In this post, if you forgot UPI PIN, know how to reset and change it.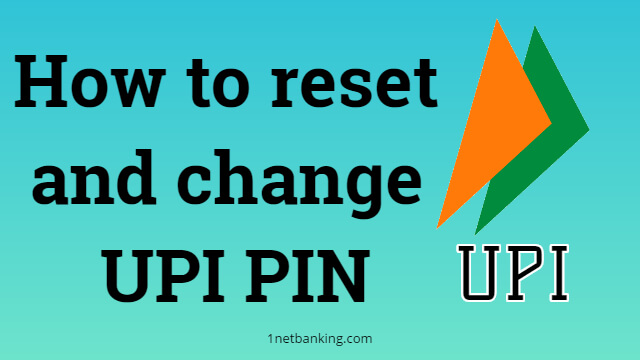 What is UPI?
A unified Payment Interface (UPI) is a technology where you can send money without having an account number but only a Unique UPI ID. With UPI you can check your balance, and transfer money from your phone with or Without Internet.
Forgot UPI PIN? Here's how to reset UPI PIN in just 2 minutes –
A six-digit (or 4 digits for some banks) is the authentication method to verify the transaction done via UPI. If you forgot that PIN, you will get stuck and no UPI transaction can be done. To reset the UPI PIN you need to perform some tasks and get the job done.
A] How to change UPI PIN in BHIM?
Open BHIM App on your phone.
From the main screen, tap on the your Bank account at the top.
Now from the newly opened screen, click on Forgot UPI PIN.
Now, enter your last 6 digits of the Debit card and Expiry date in MMYY format.

If you have a maestro card, just tick the mark on the Maestro card option, so that you don't have to enter card expiry details.
You can now enter the OTP received on your registered mobile number.
Now you can enter your new UPI PIN.
Done! your UPI PIN is now reset and you can use a new PIN to do transactions on UPI Apps.
Must Read – What is my UPI ID? How to find UPI ID on different UPI Payments App?
Apart from the generic process, we will app-specific process for each popular app like PhonePe, Google Pay, BHIM, Amazon Pay, Paytm, etc.
B] How to change UPI PIN in PhonePe?
Open the Phonepe App and from the bottom menu, tap on your Profile Picture at the top of the app.
Now, under the Bank accounts section, select the bank for which you forgot UPI PIN.


Tap on reset UPI PIN to reset it.

Enter your last 6 digits of the debit card number and expiry date and tap on the Continue button.
Enter your new UPI pin to set it.
C] How to change UPI PIN in Google Pay?
Once you open the Google Pay App on your phone, tap on your name to open the profile settings.
Now, tap on the Bank account option from the list.

Select the bank account name that you want to reset the UPI pin for.
Below the bank name, you will see the Forgot UPI PIN? tap on it.


Enter your last 6 digits of the debit card number and expiry date and tap on the Continue button.
Enter your new UPI pin to set it.
Also Read – How to remove bank account from UPI Apps?
How to reset UPI pin without debit card?
Currently, you cannot reset your UPI PIN without a debit card, but from March 15, 2022, you will be able to activate and reset your UPI using Aadhar-based OTP. RBI has released new rule, where they stated that you can now use your Aadhar linked mobile number to receive an OTP sent for activating or resetting UPI.
Summary –
We have seen the solution to everyday tasks about UPI – i.e – forgot UPI PIN. You come to know how to reset UPI pin in BHIM, PhonePe, and Google Pay for any of the banks linked to that app.
In case you have any difficulty resetting your UPI PIN, then feel free to write it down in the comment section below.
Also, read this –
> What is State bank virtual card? How to create SBI virtual Card
> [Easiest method] SBI account statement online download
> How To Activate SBI Debit Card?
> [Solved] How to get CRN number of Kotak bank
> How To Link Aadhaar With Axis Bank Account?