Union Bank Aadhar link process in 1 minute
Linking Aadhar card number with your bank account enables many benefits to you. One of such benefits is Gas Subsidy, many government schemes, zero balance bank account etc. Union Bank provides the easiest way to link your Aadhar number to a bank account in several ways. Union Bank Aadhar link includes online and offline methods. I will be explaining all these methods to you in this guide in detail.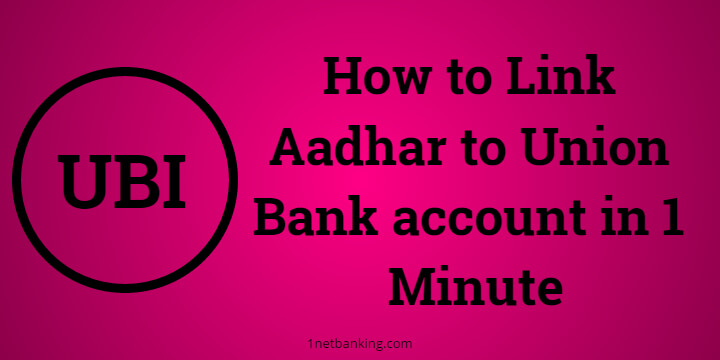 How to Link Aadhar to Union Bank account in 1 Minute?
There are many ways provided by the Union Bank for Union Bank Aadhar link
Using Online Website without login
By sending SMS
Using Union Bank Mobile App
Offline – By filling Union Bank Aadhar link Form
We will see all the above four methods in detail, step by step.
Method 1 – Link Aadhar to Union Bank account by visiting Union Bank Website
Open the union bank unique URL to Union Bank Aadhar link provided by the bank – https://eremit.unionbankofindia.co.in/linkaadhaar/GUIs/unionaadhaar.aspx
Now, a form is displayed on the screen. You have to fill up this form correctly.

In the first option, enter your 15 digit union bank account number. Again re-enter your account number in the second field.
Now, enter the Bank account name correctly.
In the second section of the form, enter your Aadhar number correctly and name on the Aadhar card as printed.
In the third section, enter your Mobile Number and Email ID correctly.
Now click on Submit button to confirm union bank Aadhar link. Your Aadhar is now linked to your account number.
Method 2 – Union bank Aadhar link by sending SMS from registered mobile number
Using your registered mobile number you can easily do the Union Bank Aadhar link. Here are the steps –
On registered mobile number, go to SMS app and type the following SMS –


UID<space><15-digit account number><space><12-digit Aadhaar>

Now, send this message to the following mobile number –
Union bank Aadhar link SMS number – 09223008486
Please note that this SMS is chargeable, make sure to keep balance in your SIM card before sending the message.
After successful delivery of the message, your Aadhar number will be linked to the account number within 72 working hours.
Also Read – How to check bank account balance on phone within 5 minutes
Method 3 – Link Union bank account and Aadhar using Mobile Banking App
Using a mobile app to link Aadhar with the bank is now possible. Here are the steps –
Open the Union Bank Mobile App on your phone  – U-Mobile
Log in with your user id password in the app.
From the main menu, click on the Other Services tab.
Now, tap on the Requests option from the next menu.


Now, click on Link Aadhaar with your UBI account.
Enter your Aadhar number and name as on Aadhar card.
Click on Submit button to confirm the linking.
Also Read – How to block Union bank ATM card instantly
Method 4 – Link Aadhar to UBI by filling up the form
Union Bank Aadhar link can be done by visiting your bank branch.
Go to your nearest bank branch and ask for the Union Bank Aadhar link form on the help desk. You can download the form from here also –https://www.unionbankofindia.co.in/pdf/Revised-format-Consent-Seeding-Aadhaar-Mobile.pdf
Fill up all the details and information requested in the form. Make sure the details are correct.
Now, attach the Aadhar card photocopy with the form and sign on both sheets.
Submit this form to the bank executive.
Your Aadhar number will now be linked within 2 days.
Summary –
Union Bank Aadhar link can be done easily within 1 minute. You can do this process from your home without going anywhere. I have explained the four easiest ways to link Aadhar to UBI account, including one offline method. If you have any difficulty doing this process, you can write your query, question, or doubt in the comment section below.