What is ICICI beneficiary activation time and cooling period? [1 minute read]
ICICI Lets you transfer the money using Internet banking and Mobile App. To make an IMPS, NEFT, and RTGS transfer, you must add a beneficiary before transferring the money. But, after you add a beneficiary in ICICI Bank, it takes time to activate it. Also, there is a cooling period; you can transfer a certain amount of money during this period. In this article, we will know the ICICI Beneficiary activation time and ICICI beneficiary cooling period in detail.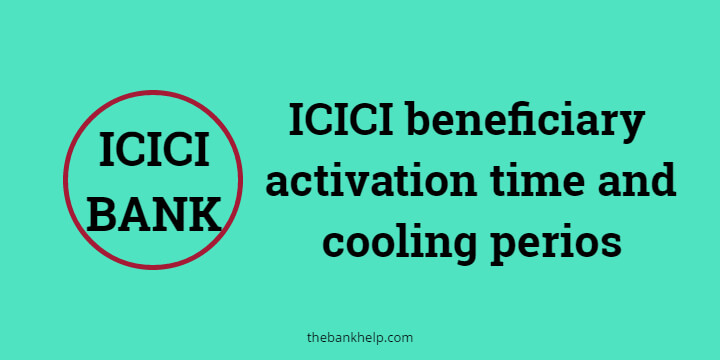 ICICI beneficiary Activation Time –
Once you add the beneficiary using ICICI net banking or iMobile App, you must wait till it gets activated. The beneficiary activation time in ICICI bank is 30 Minutes.
One more rule for adding beneficiary is, you can add 10 beneficiaries in one day.
ICICI Cooling period –
For ICICI, there is no cooling period, which means after 30 minutes of activation, you can transfer any amount within the transferring channel limits.
=> For NEFT transfers – you can do up to Rs. 10 Lakh transfers
=> For IMPS – up to Rs. 2 lakhs
=> For RTGS – From Rs. 2 Lakhs and above
For detailed transfer limits and charges, read here –
https://www.icicibank.com/Personal-Banking/onlineservice/online-services/FundsTransfer/neft-rtgs.page
How to transfer money without adding beneficiary?
If you don't want to add beneficiary every time for new beneficiaries, OR if you don't have access to Internet banking/iMobile App, you must try these methods, which don't need you to add a beneficiary.
ICICI Quick Money transfer feature
UPI
Mobile Number + MMID
These methods come with their own limits, do check the limits before using them.
Read the guide on transferring money without adding beneficiary in ICICI for detailed step-by-step instructions and transfer limit for each method.
Limit for UPI –
There is a limit for UPI transactions. For ICICI, you can transfer 1 lakh per day and 10 transactions per day.
Read more about – UPI transfer limit and transaction limit.
Summary –
We have seen an ICICI beneficiary activation time, transfer limit, cooling period. If you have any doubt regarding your ICICI bank, write to us in the comment section below.