ICICI net banking password generate online process in just 2 minutes.
ICICI bank provides online banking facilities to its customers right from opening the account to managing it. You can open an account online, generate password online and manage your account online without going to the bank. If you have recently opened a digital account online, you can generate ICICI netbanking password online by yourself from your phone or computer. In this guide, we will see easy steps by step guide on ICICI net banking password generate online process.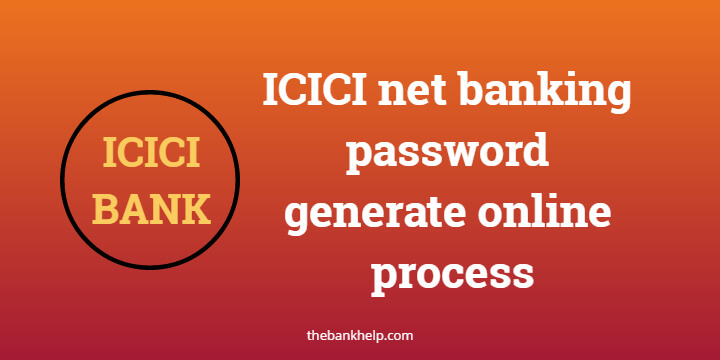 Requirements for ICICI netbanking password generate –
User Name – ICICI netbanking username. You have received an SMS or email for a username. Click to know your icici user id.
Registered Mobile number – You should have a registered mobile number with you while doing the password generation process.
ICICI Debit Card – You should have a debit card with you.
MUST READ – How to download ICICI bank statement without login?[in 2 minutes]
How to do ICICI net banking password generation online?
Read and perform these easy steps to generate password by yourself –
Step1: Open ICICI netbanking password generation website on your computer/smartphone browser – https://www.icicibank.com/online-services/generate-password-personal.page
Step2: Click on the 'I Want My Password' button from the opened page.
Step3: On the new page, enter the User ID and the registered mobile number.

Step4: You will now receive the OTP on your registered mobile number.
Step5: Now, enter the OTP on the screen in the given field and click on the 'GO' button.
Step6: On the new screen, you can now enter the new password of your choice.
Step7: Enter the same password 2 times and then click on the 'GO' button.
Step8: Done! Your password is now generated successfully. Click on the 'Login Now' button and log in to your account using user id and password.

Step9: For security reasons, you have to change the password after logging in for the first time.
Step10: On the screen, enter the old password, new password, then confirm the new password and click on the 'UPDATE' button.
Step11: Please remember the password and do not share it with anyone.
You can now manage your account from your computer or smartphone. You can download the iMobile App on your smartphone to manage it.
MUST READ – How to change icici net banking password?
How to register for the iMobile App?
Once you generate ICICI netbanking password, you can now register on the iMobile App on your smartphone to access your account on the go.
Download the iMobile App on your smartphone. iMobile app is available on Playstore for Android and App Store for iPhone/iPad
Open the app and allow required permissions.
Click on the 'LET'S GET STARTED' button to start the login process.
Select 'Indian Resident Account' from the new page.
Also, confirm the SIM verification. Make sure that you have inserted a registered mobile SIM in the smartphone.
Select the SIM which is registered with the bank and press the 'Continue' button.
The App will verify your SIM by sending an SMS.
Now, select the 'Net Banking ID' as a registration method.
Enter Netbanking ID and Netbanking Password and then press Submit button.
Once you successfully log in to the iMobile App, you can create a UPI id or skip the process.
Done! You have now registered on the iMobile App, and you can access your ICICI bank account on your phone.
Also Read – How to do change mobile number in ICICI bank?
Safety measures to take after ICICI net banking password generate –
Never share your password with anyone.
Do not log in to your account from a public computer
Please do not save the password to any browser; instead, remember it.